Chess Anyone?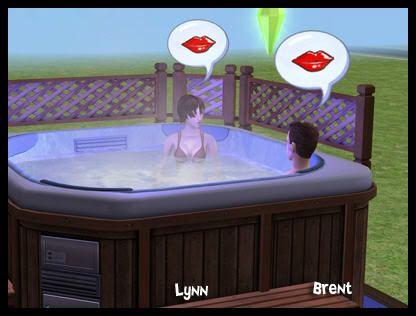 Looks like our next group date is starting. Our little neat freak Lynn is the first one in and they are talking about kissing again! We'll have to wait and see if you get a chance Lynn.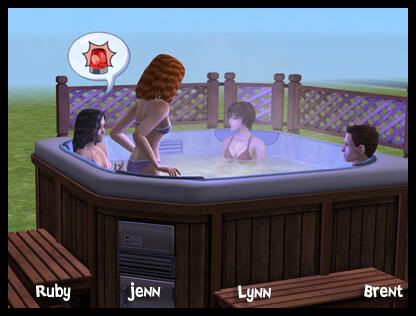 Ruby and Jenn also make it into the tub with Brent. Nice job ladies!
So that leaves Rachel & Shaunna as the odd women out and look, they're talking about kissing too. Ah ladies this isn't that kind of show.
Looks like it's time for another one on one date. This time Brent will play chess with each lady. Looks like Brent is looking for another conversation about kissing, so he started with Lynn.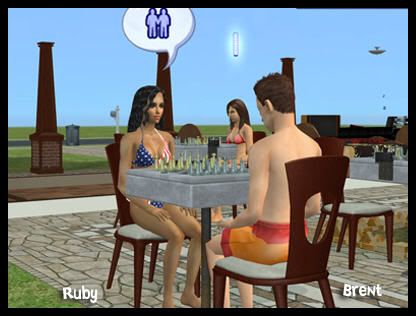 Next up is Ruby. Ah Ruby I don't think talking about meeting someone new is in your best interests in this situation.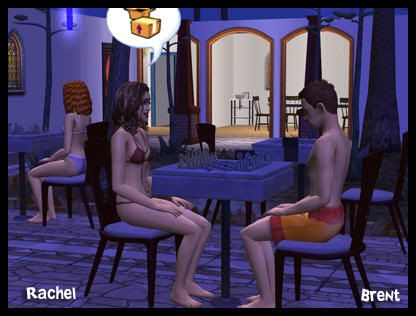 And Rachel you're supposed to be talking yourself up.

Rachel: But I'm really upset Vilma and Wen moved out.

A. That means you beat them and
B. would you like to join them? Cause that can be arranged.

Rachel: No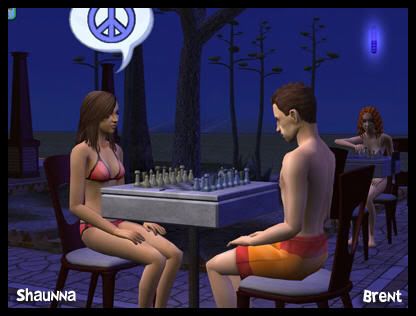 Looks like Shaunna chose a good safe subject. I mean who doesn't like peace?
I totally saw that one coming.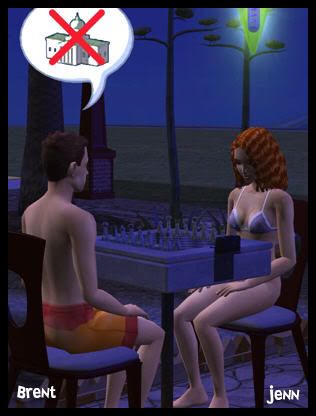 Finally Brent makes it to Jenn. Looks like he's not a fan of political talk.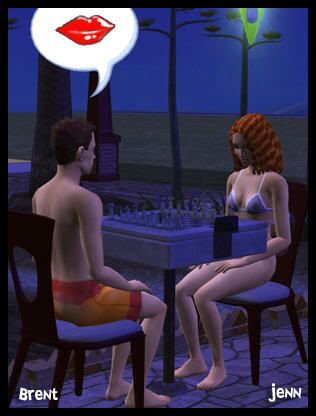 There you go Brent, go back to subject you know nothing about.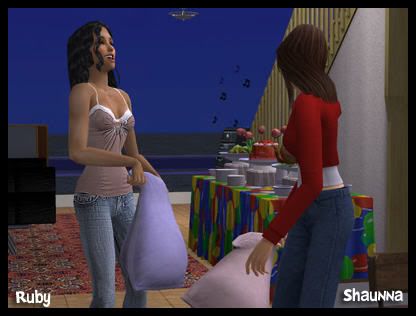 A
nd we have another pillow fight going. Listen I know you're friends in real life but come on work with me here!!!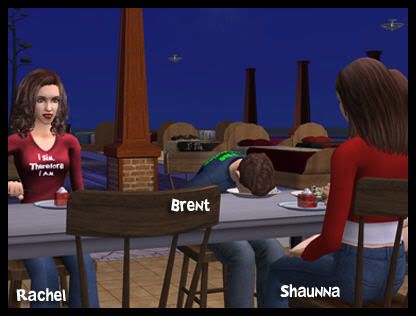 Looks like all that dating has worn our poor bachelor out. Brent, wake up and go to bed!

Brent: OK
Nice moves Ruby! You sure look confident.

Ruby: Sure am. I've got this in the bag.
-Everyone Goes to Bed-

Jenn what are you up to?

Jenn: I loved gaining those logic points yesterday, thought I'd work on more.

That's fine Brent is, ah, busy right now anyway.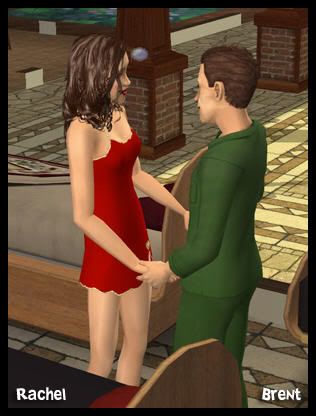 It's time for 2 flirts each. Rachel accepts holding hands.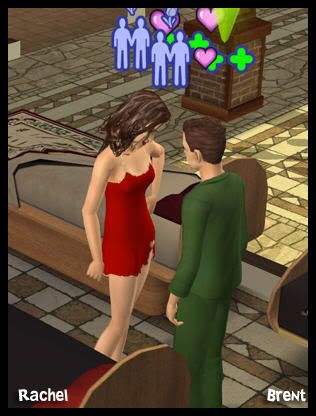 And a Sweettalk. We have a mutual crush folks!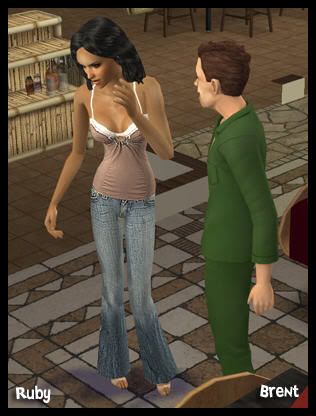 Confident Brent tries to Sweettalk Ruby, but she's having nothing of it.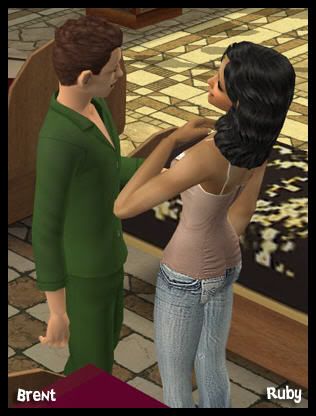 The Charm is accepted.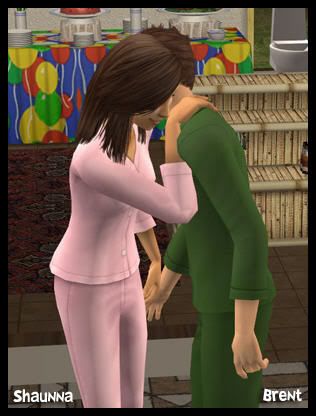 Brent goes for a suggestion with Shaunna and she accepts.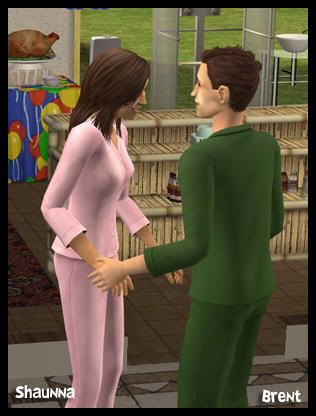 She also let him hold her hands.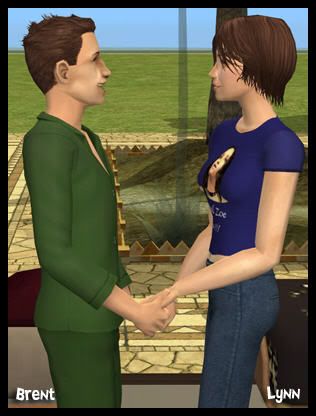 Feeling once again confident Brent holds hands with Lynn.
But he's turned down flat for a caress despite the mutual crush.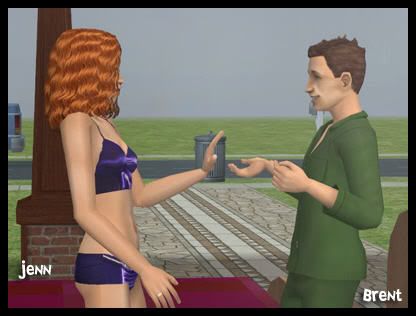 Brent confident that Jenn will hold hands with him goes right for her hands only to have them swotted away.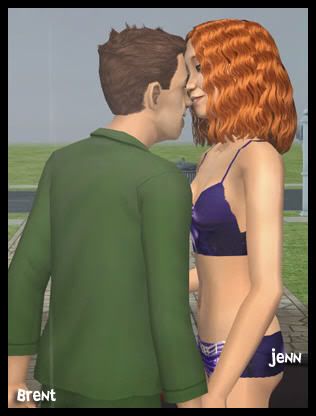 His suggestion is accepted however.
And we have the fourth mutual crush.
Stats time.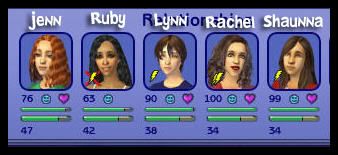 Rachel 134
Shaunna 133
Lynn 128
Jenn 123
Ruby 105


I guess it's no surprise the one he doesn't have the crush on is the one to go. It's a real horse race now.

Brent: Bye Ruby. It's been wonderful to know you.
Ruby: Thanks Brent, I'll see you around.